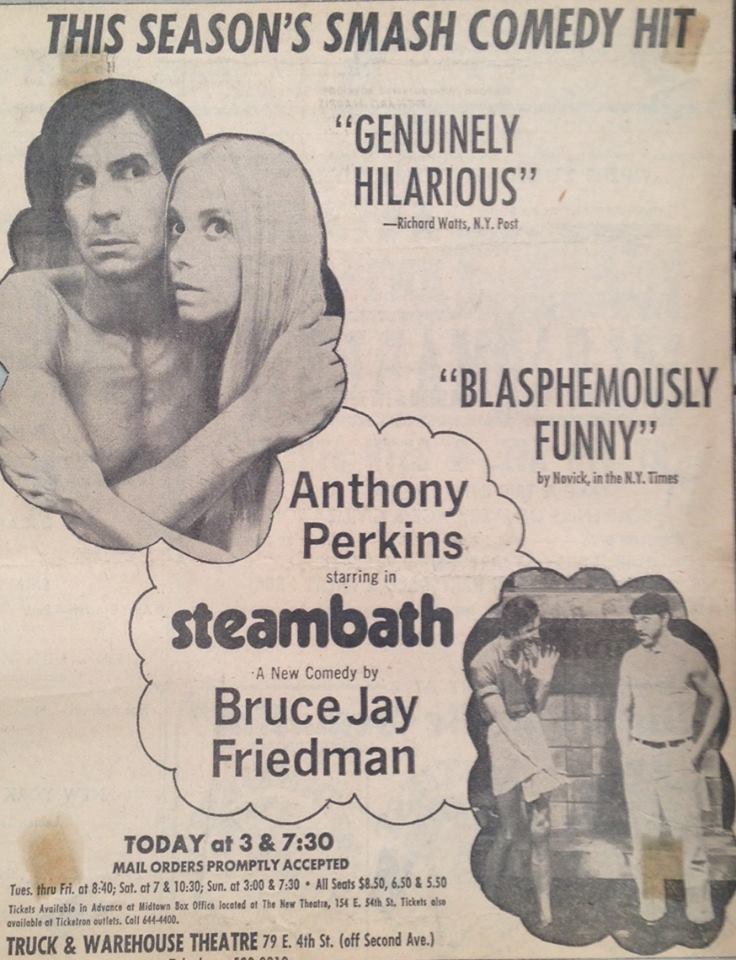 It was 1970, but really the apex of the 1960s. Though I loved the play, my father assumed I only came every Friday for the nude shower scene, featuring a gorgeous actress named Annie Rachel. It was in the first act, which I always caught before the early show at the Fillmore East, around the corner.
"What's wrong with the second act?" my dad would ask.
"I have to make the Fillmore!"
"Yeah, sure."
This became a ritual when I was 14. Train in with friends from Long Island to the East Village; dinner at the Paradox, a Zen marcobiotic hippie commune restaurant; catch the first act of Steambath at the Truck & Warehouse Theatre; then off to see Mountain, Johnny Winter, Allman Bros., Humble Pie, Cactus, Chicago. . . The East Village was thick with patchouli, pot smoke, aging beatniks, Krishnas, thousands of hippies and old Ukranians in turn-of-the-century tenements. And kiosks that sold Zap, Screw and Horseshit Magazine—real contraband in those days. The Fillmore, Steambath, and the girlfriend I had that year constitute the happiest moments of my teens (which didn't contain enough—I've been trying to catch up ever since.)
My dad brought me through the incubation process of Steambath, reading scenes aloud as he wrote them, bringing me to auditions, rehearsals. Hundreds of Latino actors auditioned for God. During rehearsals, I remember the character of a Black soldier who entered the steambath straight from the killing fields in "'Nam"—which was soon written out of the play. When a devastated Charles Grodin asked why he was being replaced in the lead by Anthony Perkins (also the director), the producer's (Ivor David Balding) answer was blunt: "Tony has a bigger cock." (Perkins momentarily appeared naked in the play—which did indeed take place in a funky steambath stage set in limbo. The characters drifted in and out of the steam). Poor Chuck Grodin, thankfully, broke through immediately after in The Heartbreak Kid, a BJF short story turned into a movie by Neil Simon and Elaine May.
Hector Elizondo, in this breakthrough role, blew off the roof as the Puerto Rican steambath attendant who turns out to be God. The 1973 TV version with Bill Bixby was mighty fine. But the original 1970 show was a mindblower.
On the matter of my right arm, which comes up in these letters:
My primary activities during childhood were guitar and pitching. I'd been throwing since I was little—apples, rocks and baseballs. Throughout my earlier years in Glen Cove (crab apples were plentiful), I could beat back gangs, even grown men, with my throwing arm. I felt I could hit any target at any distance. It felt supernatural. I took to pitching in little league. By 14, I was throwing too hard and too much, and tore up my shoulder during baseball tryouts. My arm finally came out of the socket and hung limp for almost two years. I couldn't even play guitar the whole year I was 15. I was absolutely devastated. My father moved heaven and earth to get me better. He took me to Dr. Sidney Gaynor, the Yankees team physician. When that didn't work, he took me to Dr. James Nicholas ["Nick the Knife"], the Jets, Knicks and Rangers team physician, who did Namath's and Mantle's knees. I fully recovered by age 16, but never pitched again. For that, I await the next lifetime.
–Josh Alan Friedman